This Model Makes Energy Storage Accessible for People of All Incomes
Published by Electriq Power on July 12, 2023
This article was originally published on Triple Pundit: This Company Brings Solar+Storage to People of All Incomes (triplepundit.com)
Rooftop solar and battery energy storage can help households deal with rising power prices and increasingly frequent outages tied to natural disasters. But solar and storage systems are economically out of reach for many people — particularly those who would benefit most from the extra help on their monthly bills.
Electriq Power is looking to close the gap by partnering with municipalities and nonprofits to make solar and energy storage systems available to residents of all income levels.
"We try to make it the same for each and every one, whether you're the wealthiest person in a community or the lowest-income person in the community," said Frank Magnotti, CEO of Electriq Power.
Powering California communities with solar and energy storage at no money down
Electriq Power partners with municipalities to offer solar and energy storage solutions to their residents. Electriq provides all hardware, software and services — including solar panels and batteries, as well as smart battery software, installation services and grid connectivity.
The company also lends its marketing prowess to help municipalities get residents signed up, but the programs are branded by the city or town — providing further assurance to residents. "The municipality provides a really key link here," Magnotti said. "The homeowners get the confidence that this program has been vetted by the municipality."
The program is open to homeowners, as well as renters in multifamily units whose landlords have opted to participate. Residents can opt into the program with no upfront cost, no credit checks and no property liens. And 25-year power purchase agreements, provided by Electriq and vetted by participating municipalities, allow residents to power their homes with solar for about 20 percent less than what they pay for their typical energy bill.
"They're getting a free battery on top of that — and again, at no money down — so it's a pretty strong program for low-income communities who would not be able to afford this," Magnotti said.
Electriq has three of these programs up and running in Parlier, Santa Barbara and San Luis Obispo, California, where participating households are connected to form solar microgrids that Electriq calls sustainable community networks, or SCNs.
Within these networks, Electriq's PowerPod 2 battery systems are connected to rooftop solar installations as well as the local energy grid. Solar panels charge the batteries during the day, and smart battery software deploys that power back into the home during peak demand times to insulate the household from sharp spikes in power pricing. Bringing energy independence to more households also helps reduce the burden on the local energy grid, making it better equipped to handle demand fluctuations and capacity constraints.
Along with accessing energy at cheaper and more predictable prices, residents also gain peace of mind in knowing their homes will still have power in the event of a local outage.
"What is not known by a lot of people is that if you have solar and the grid goes out, you can't use your solar," Magnotti said. "But if you have a battery system that works with the grid, you can then keep on [using] the solar and storage without the grid being there at all."
The programs are catching on fast. More than 1,000 residents have expressed interest in Santa Barbara County's home power program since it launched in October of last year, Magnotti said. Electriq is looking to establish more community solar networks across California, backed by $300 million in financing from an unnamed U.S. clean energy company secured in March.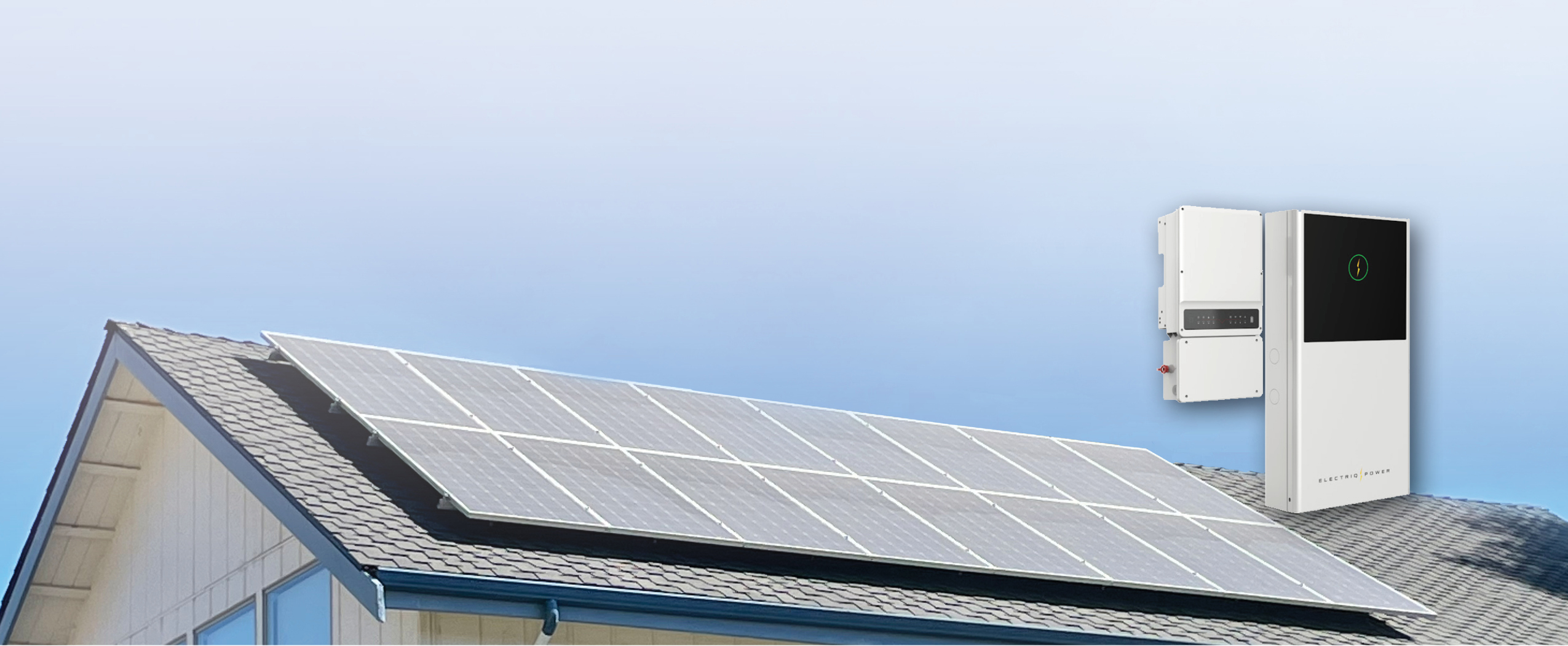 Working with nonprofits to bring more solar and storage online
Electriq also helps nonprofits create solar and energy storage programs in the communities they serve. In Puerto Rico, the company is the sole service provider for the nonprofit Barrio Eléctrico, which works to bring solar and storage systems to low-income residents in the coastal town of Isabela, about 70 miles west of San Juan.
Similarly to how the home power programs function in California, Isabela residents can opt into rooftop solar and battery energy storage with no upfront cost.
The batteries' off-grid functionality is particularly compelling for an island that's frequently affected by storms and extreme weather. After Hurricane Fiona struck last fall, "our homes were the only ones that had power," Magnotti told us. The company has also been in touch with the Federal Emergency Management Agency (FEMA) about how to use its battery systems for emergency support, he said.
Further, using stored power during peak times can significantly lower household energy bills — another huge plus for the island, where electricity rates are among the highest in the U.S.
The company provides services to SEDC Solar for a similar program that makes solar and storage accessible to homes, churches, and businesses in some of the lowest-income neighborhoods of Washington, D.C.
A triple win for residents, municipalities and the private sector
In March coverage of Electriq, Anne Fischer, senior editor of the solar-focused publication PV Magazine USA, breaks down how all parties benefit from this type of model. "Electriq or another financial party own the battery, and they get the federal tax credit," she wrote. "The benefit to Electriq, or other third-party, is that they can use the battery at specified times to send power to the grid."
Meanwhile, residents get the benefit of purchasing solar power at a cheaper price than conventional power — lowering their bills and reducing the carbon footprint of their home energy use, while also knowing they can maintain power in the event of an outage.
The model is, of course, not a panacea that can solve all of a community's decarbonization and grid stability challenges, with limited availability for renters being a clear gap to fill. But when coupled with other solutions like community solar — which allow renters to share solar power from community installations — home power programs like those from Electriq can help cities to decarbonize, enhance grid resilience, and offer lower and more stable energy prices to their residents.
"What we pride ourselves on is this automated software where the customer gets very involved if they want and can change things on an hourly basis, or you can kind of set it and forget it," Magnotti said. "The key is: How do you have software that makes it easy for the consumers? They don't have to think that much, but it still provides these benefits for them."